Welcome to Memoria Palace & Resort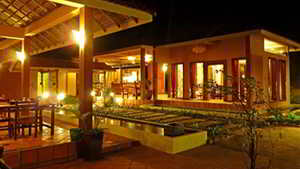 Eco-friendly resort located in the foothills of the Cardamom Mountains of Pailin, Cambodia. The resort spans over 15 lush hectares and features 16 beautiful bungalow rooms, 3 unique traditional style thatched eco-lodges, a hilltop saltwater swimming pool, open space restaurant & outdoor bar, and conference room/rehearsal studio. Memoria is a hidden getaway with inviting appeal, magnificent views across the countryside, fresh clean air and an invigorating breeze coming off the mountains. Our location provides the perfect environment for a variety of retreats, peaceful relaxation, personal rejuvenation or adventurous outdoor activities.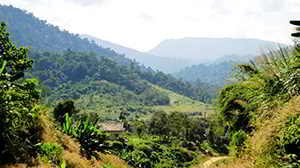 Pailin province, known for gem mining, is a peaceful rural town unspoilt by modern development that allows visitors a glimpse into the real Cambodian life of the once war-torn area. Easily accessible from Chanthaburi via the Ban Pakard/Phsa Prum Border which is free from the scams and hassles of Poipet or Koh Kong, Pailin offers you an alternative way to enter/exit Cambodia with good roads allowing easy access to Koh Chang, Rayong, Pattaya, Bangkok, Battambang, Siem Reap, and Phnom Penh. It's also an ideal place to base yourself for sightseeing, cycling, hiking and trekking excursions and guided tours into the Cardamom Mountains, one of Southeast Asia's best preserved wilderness areas which hosts an abundance of unique species as well as some of the few remaining populations of endangered animals once common to South East Asia.
We are committed to turning this once war-torn area into a responsible tourism destination, by offering a brighter future to the younger generation in Pailin, thus protecting the local people – be they our staff or from the local communities – from the negative impact of tourism is  one of our highest priorities. We also support all kinds of wildlife protection initiatives, thus sale of wild animals or foods and products derived from them is strictly prohibited on our premises.
Whether on a visa run, on holiday, on a tour of Cambodia or in search of a wilderness adventure, you will always find a warm welcome at Memoria Palace & Resort.
Things to do in Pailin
Accommodation
Facilities
How to Get to Pailin