T

he Chinese New Year, or Spring Festival, has more than 4,000 years of history and is the longest holiday of the year. The national holiday begins on the first of the Lunar Calendar and lasts until the 15th of the first month. In 2018, Chinese New Year begins on and ends
There are multiple blessings and greetings for Chinese New Year. The simplest is, of course: "Happy New Year!" (xīn nián kuài lè) 新年快乐
Which animal is 2018?
2018 will be the Year of the Dog. According to the Asian astrology, your year of birth - and the animal this represents - determines a lot about your personality traits. Although each of the 12 animals gets an outing every dozen years, there are different varieties - and 2018 will be the first year of the earth dog since 1958. The Chinese zodiac moves in a 12-year cycle, and those born in 1958, 1970, 1982, 1994, 2006, and 2018 are also known as Dogs.
A Dog's most defining characteristic is their loyalty. They will never abandon their friends, family or work. Honest and just, they are popular in social circles. Everyone needs a Dog friend for advice and help. They are also good at helping others find and fix their bad habits. Despite how they act, they are worried and anxious inside. However, they will not let this stop them. Once they decide on something, no one can persuade them against it.
Anyone born in an earth dog year will be communicative, serious, and responsible in the workplace.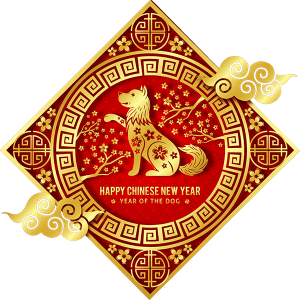 Chinese New Year 2018 Calendar
Solar date (2018)
Lunar date
Title
February 8th
December 23rd
Little Year

(小年—xiǎo nián)

February 15th
December 30th
New Year's Eve

(除夕—chúxì)

February 16th
January 1st
Spring Festival

(春节—chūn jié)

February 17th
January 2nd
To the in-law's

(迎婿日—yíng xù rì)

February 18th
January 3rd
Day of the Rat

(鼠日—shǔ rì)

February 19th
January 4th
Day of the Sheep

(羊日—yáng rì)

February 20th
January 5th
Break Five

(破五—pò wǔ)

February 21st
January 6th
Day of the Horse

(马日—mǎ rì)

February 22nd
January 7th
Day of the Human

(人日—rén rì)

February 23rd
January 8th
Day of the Millet

(谷日节—gǔ rì jié)

February 24th
January 9th
Providence Health

(天公生—tiān gōng shēng)

February 25th
January 10th
Stone Festival

(石头节—shí tou jié)

February 26th
January 11th
Son-in-law Day

(子婿日—zǐ xù rì)

February 27th – March 1st
January 12th–14th
Lantern Festival Preperations
March 2nd
January 15th
Lantern Festival

(元宵节—yuán xiāo jié)
New year traditions
This Chinese tradition goes all the way back to the Northern and Southern dynasties (420-589 AD). In the Song Dynasty (960-1279 AD), everyone would show off their new clothing as they visited friends on New Year's Day. In the Republican period (1912-1949), beautiful new clothes were needed as the youth paid their respects to the elders. It's a part of Spring Festival celebrations, just like the New Year's Eve reunion dinner. You might be able to guess why.
Significance of new clothes
The Spring Festival is a time of change and new beginnings. Practically every activity during the Spring Festival has the purpose of removing the old and welcoming the new. Forget about the misfortunes and be ready for good luck. In addition, new clothes are auspicious and can protect you from evil spirits.
Like the New Year couplets and other decorations, new clothes also add to the festivity. In the past, China was an agrarian society. There was only 1 harvest per year in the north and 2-3 in the south. Throughout the entire year, people scrimped and saved.
Red pocket
What is this magical red thing? Regardless what term you use, 红包 (hóng bāo) are great because they contain money. The money in red envelopes is also known as 压岁钱 (yā suì qián). Literally, it is "money to anchor the year(s)." It is also known as "lucky money" or "New Year's money."
By giving the money to children, elders are hoping to pass on a year of good fortune and blessings. Another version is given by the younger generation to their elders as a blessing of longevity and a show of gratitude.
In some regions of China, rather than between generations, married couples will give red envelopes to their unmarried friends to transfer some luck.
The Legend
According to legends, there was a monstrous creature named Nian (年). Once a year, it would come out of the forest at night and devour entire villages. The steps of protection against Nian during New Year's Eve transformed into the Spring Festival celebration.
Parents would also give children money that night. This way, the children would have something to bribe the monster or other evil spirits with.
In another popular story, there is a demon called Sui (祟). On New Year's Eve, it would come and pat children's head while sleeping. His touch was tainted. To protect their children, parents would stay up the entire night, guarding them.
One couple gave their child a coin to play with. When he fell asleep, they placed the coin next to the pillow. At midnight, an eerie wind snuffed out the candle. When Sui reached for the child, the coin flashed in the darkness and scared him away. The next day, the couple wrapped the coin in red paper to show their neighbors.
The food
Food is one of the things that the Chinese take the most pride in. And of course, lot of care and thought is put into the menu for the most important holiday of the year. As with Chinese New Year activities and decorations, the dishes are created to give blessings for the next year. Both the names and looks are symbols of wishes for prosperity, happiness and auspiciousness.
Though every region (even household) have different customs, there are some common dishes seen on every table:
Spring rolls 春卷 (chūn juǎn): are probably the most well-known of Chinese cuisine. However, they're actually "spring rolls." They are eaten during the Spring Festival in Southern China to celebrate the coming of spring. More specifically, they are eaten on the first day of spring (立春—lì chūn). They can appear on the table as a dinner dish, appetizer or snack.
Dumplings 饺子 (jiǎo zi): the northern equivalent of spring rolls. They are eaten during every special occasion, but are the most significant during Chinese New Year. By eating dumplings, you are sending away the old and welcoming the new.
Noodles 长面 (cháng miàn): in some places, it's custom to cook dumplings and noodles together. This is called gold silk and gold ingots. It's yet another dish to express people's wishes for prosperity.
Steamed Fish 蒸鱼 (zhēng yú): is a must for the Chinese New Year. Why does fish symbolize surplus and wealth? In Chinese, fish (鱼—yú) has the same pronunciation as 余, which means "surplus" or "extra." The typical blessing is 年年有余 (Nián nián yǒuyú), wishing you to have a surplus (or fish) of food and money every year. Half of the fish is eaten for dinner, and the second half the next day. This is to prolong the surplus and make the future prosperous as well.
Steamed Chicken 蒸鸡 (zhēng jī): a whole chicken is another symbol of family. Rich in protein, one chicken is enough to feed an entire family. It represents reunion and rebirth. To express this auspicious meaning, people keep the head and claws. After cooking, people will first offer the chicken to the ancestors.
Nian gao 年糕 (nián gāo): known as "rice cake" or "New Year cake" in English, are a must for Chinese New Year. In ancient times, nian gao were used only as offerings to the ancestors and gods. Gradually, they became a traditional dish during the Spring Festival. Now they are available every day of the year, but are still a special treat for the festival.
Vegetable dishes: Spring is the season to plant new seeds. Traditionally, the Spring Festival is the best time to finish all the vegetables stored and preserved from the winter.
Hot pot 火锅 (huǒ guō): Hot pot is another food that has a long history. Emperor Qianlong of the Qing dynasty is the most avid fan. When he held feasts for old and retired officials, hot pot with meat were always on the menu. During his New Year's Eve dinner, there were 120 dishes for lunch and even more for hot pot.
Chinese New Year in Cambodia
Even though Cambodia have their own New Year's Day, they still celebrate the Chinese one. AHouses get decorated with yellow flowers, which are supposed to bring good fortune while Lion and Dragon dancers are performing on the streets. It is considered that the longer the creature is in dance, the more luck it brings to the audience, so people usually give small donations to keep them dance as long as possible.
But if you are a nature lover and want to do things in a different way, the team of Memoria Palace & Resort offers you a different plan to enjoy the holidays with your family, couple, friends...
This is your place and we will be glad to attend you!
How are you planning to enjoy the Chinese New Year?