Employees are more productive and motivated when they feel a greater sense of involvement in establishing their organization's goals and ideals. A carefully-planned retreat motivates employees because it enlists their creative participation in setting goals and contributing to decisions. A company retreat is an opportunity to step away from the day-to-day. A chance to exhale, to consider your work, your goals, your future outside the office with your cell phones off and spend time with teammates out of the office. To make the time you never have to consider the issues that actually deserve most time of all. The focus is on the important rather than the urgent.
Reasons to plan a company retreat
1. Company retreats get people focused
Taking healthy breaks and vacation actually boosts overall productivity. Being in a new space that is solely dedicated to certain projects or tasks will help your company gain more focus. Employees feel dedicated to the cause. And more focus leads to more productivity.
2. A great way to focus on team building
An offsite staff retreat allows you to do engaging team building activities that you can't do at the office. Offsite locations supplies new spaces with new resources to help your team grow stronger.
3. They're ideal for bonding
Team mates who connect directly with each other work more efficiently and with greater overall success. Which is why that offsite is perfect for greater co-operation. A staff retreat will help bond people together. Being somewhere new and dedicating yourself to a mission makes your team members come out of the offsite feeling stronger altogether.
4. Allow to spend in-person time
It is especially important if your company has multiple offices in different cities. Bringing everyone to one place to work on a project makes your team feel more connected. And they'll work better toward a common goal.
5. A way to get out of normal routine
Being in a brand new space when working through an issue can really get your team's brain working in different ways. New setting= new ideas! Offsites encourages brainstorming and creativity, and they remove barriers that the office may have in place.
6. An opportunity to use new technologies
So, for example, you're working on launching the new website and need a huge projector screen to get the visuals across to your whole team. An offsite with these large capabilities would be the perfect place to do this in one place at one time. How about an offsite at a theater? You can't do that at the office.
7. Re-Energize your team
After a particularly nice day or weekend offsite, working on a new project or simply bonding, team members often feel ready to get down to business when back in the office. They might also feel that they reconnected with their team, happy about who they work with and what they are doing together.

Steps to plan a great Company Retreat
1. Identifying and Communicating about the Retreat Purpose(s)
A retreat may have one, two or several purposes. It's important to think carefully and clearly about retreat purposes since they become the foundation for the retreat design.
Some purposes for retreats are:
engage in a planning process that involves all the major units or contributors
build a more effective team in an office or organization
take stock of progress in a project or with organizational change initiatives
engender creativity and synergy around problems or future directions
create a degree of shared ownership in key planning issues, or in solutions to organizational problems
discuss issues at a much deeper and more thoughtful level than they can in the "controlled chaos" of the office environment
allow people who telecommute or who are located in different geographical regions or who travel a lot the opportunity to re-connect or spend time in person.
No matter what the purpose for the retreat, everyone must understand that the retreat is not an end in itself. It is simply one step amongst many in a continuing process to establish or sustain an effective organization or team. Retreat processes and results must be carefully planned to fit in with ongoing activities and the normal workload.
2. Deciding on a Retreat Facilitator
The facilitator must have sufficient experience to tell which problems are significant and appropriate for discussion at the retreat. The facilitator must also sense when a problem has been discussed sufficiently, and to push for closure on it. The person needs to be an extremely good listener and an effective discussion leader.
A great facilitator should be asking open-ended questions, and getting a variety of people participating and involved with responses. Someone who make all the people involved and active during the discussion, to get the highest number of ideas possible.
3. Developing the Agenda
The best retreats often include a carefully designed combination of different kinds of activities, complementing small or large group discussions with interactive leadership or team games or simulations or short training components. A good agenda usually features a mixture of these kinds of activities to help keep things active for all participants and, if designed well, learning and discussions from one kind of activity can contribute greatly to another activity. For example, if conflict has been identified as a problem during the data gathering work, a part of the retreat might be devoted to enhancing people's conflict management skills, either via a short training session or by using a conflict management simulation. An experienced facilitator can help in the agenda design process to offer guidance on how best to mix different methodologies, how to allocate time over the retreat period, and how to make sure that different activities build on one another and move the group towards achieving the goals.
Whatever process you as leader end up choosing to help inform retreat design, a draft set of goals and an agenda can be finalized and shared within the team or organization four weeks or so in advance of the retreat. This process will also be very useful in determining who is to participate for all or parts of the retreat.
4. Decide who attends
The decision about who to invite to the retreat depends largely on the purposes and retreat agenda. As part of the data gathering and agenda development process, decisions can be made about participation. In general, retreat participants can vary from the CEO and senior staff to all technical staff, or to everyone in the organization or office, or to a team leader and an intact work team. If the goal is to make sure the leadership team reaches an agreement on the direction for the next year, then it might make sense to limit participation to just that group. If the goal is to increase staff input and participation, then it is logical to extend an invitation to a greater number of people.
Another difficult aspect of the "who comes" decision should be entitled "who does not come." There are no right answers here, but the decision about who does not come, what that implies, what message it sends. So this point needs to be carefully considered.
5. Communicate Retreat expectations
After setting the agenda, it's important to finalize and communicate expectations for the organization or team, and there are two key factors to consider here:
First, it is important to be clear to people that it is better to focus on a few agenda items, and do them well, rather than to focus on many items and address them superficially, or not finish some at all.
Secondly, it is important to decide on and communicate what you see as the balance during this retreat between allowing for broad discussions, time for reconnecting (especially if the staff is not co-located) and discussing specific operational issues. While retreat sessions that produce concrete outcomes can make a real difference to the organization on an operational level, the kind of substantive discussions across lines and reconnecting with one another can engender relationships that influence positively the capacity to work together for months into the future. This is especially important as people work more virtually in organizations, and must rely on trust to interpret what is meant in an email or telephone or Skype conversation.
6. Choosing a Site
In general, high performing teams are able to work hard and play hard. Having fun at a retreat contributes to producing important results. Thoughtfully choosing an appropriate environment will help ensure that the "work hard – play hard" ethic actually materializes.
A retreat should be set away from the 'normal' workplace to a place where people are truly free from routine work pressures. The amount of work that gets done at an off-site retreat setting is significantly more than gets done at one held in the office.
Why is the site and environment so important? It is critical to keep in mind that the informal aspects of the retreat contribute measurably to work output. Serious issues are often discussed at breaks, or at lunch, or dinner, or after dinner. The climate — more informal and participatory — encourages people to be open and clear with one another in ways that the office environment discourages. Even apparently meaningless social time contributes — for example, a person will find that discussing something socially over lunch with another person will help pave the way for a subsequent in-session discussion on a controversial topic.
A staff retreat in Cambodia
The location is important, not something to decide in the last minute. Memoria Palace Resort is a place that offers you to disconnect from the office and crowded cities to focus on the important: the goals of the organization, co-operation between teammates and focus on retreat purposes.
Our conference hall is a space which allows until 200 people to attend your retreat, a place with all the facilities to translate your message to the members of your organization. Microphones, speakers, projector, a space to work... Whatever is included in your agenda, you have at your disposal to create a memorable event for all the assistants.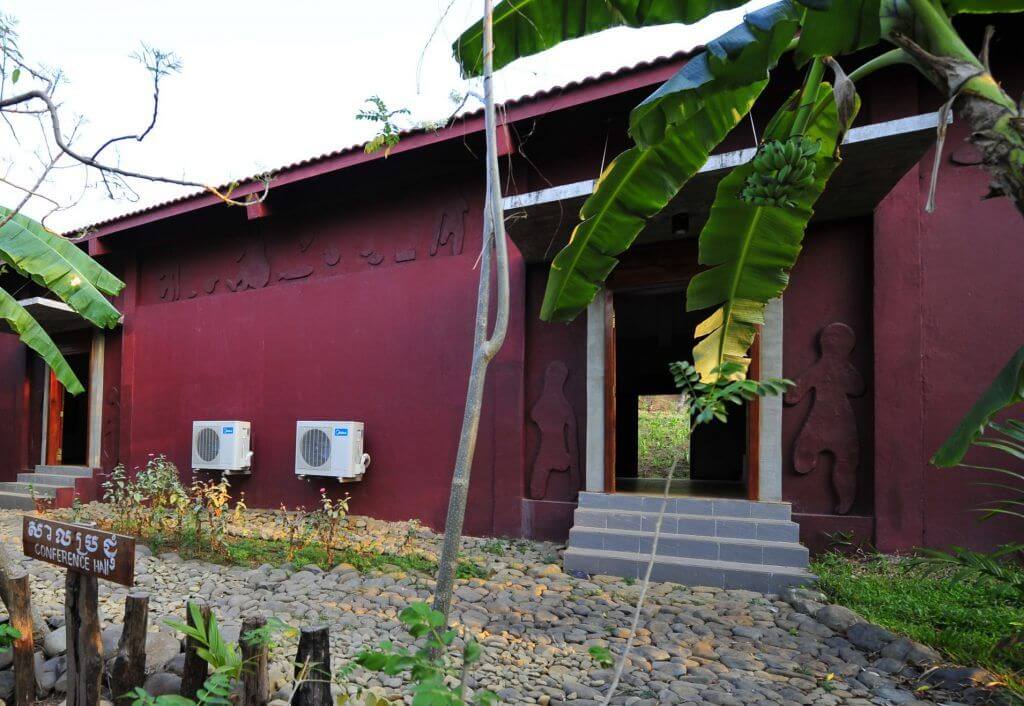 Sunflower Restaurant is also available, and a great place, to schedule lunch or dinners for big groups of people. This exceptional location, offers the choice to enjoy Khmer food specialities in a peaceful place, a good way to keep your team together. Our staff is at your disposal to attend your needs, they are trained and have experience to attend to this kind of event.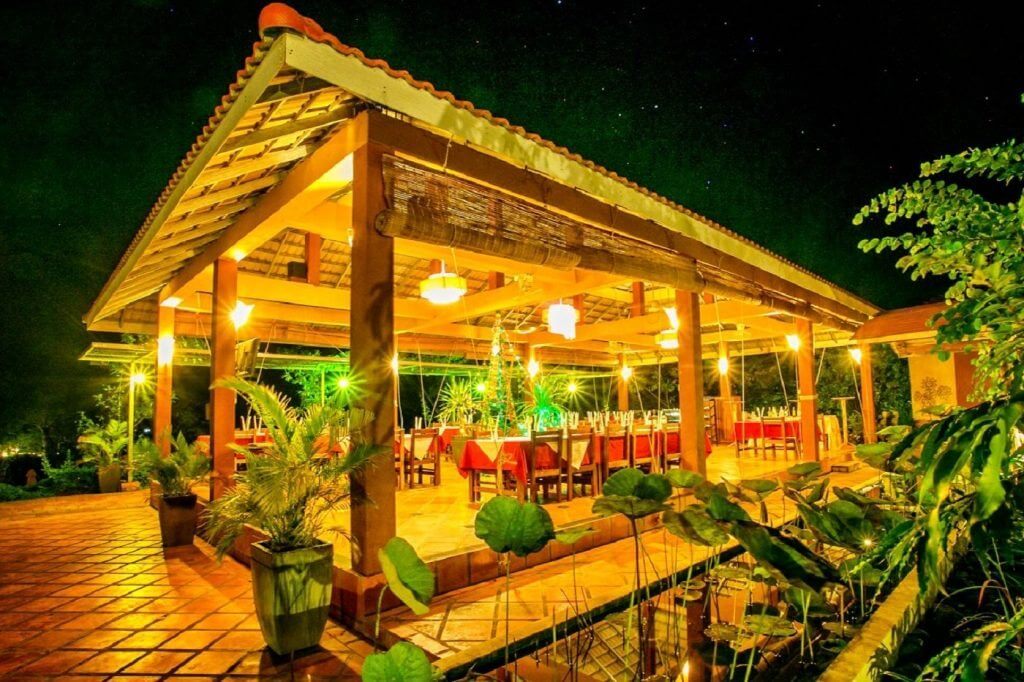 Also, if you want to try some different activities around the natural surrounding: this is your place. Cardamom Mountains are said to be the most pristine wilderness area remaining in South East Asia. A yoga lesson, a trekking, a hike or a bike route could be a different to let your employees enjoy together. Think outside the box and offer something different. Whatever you need, we will be glad to help with to create the perfect nature retreat.
If in your case you are planning a weekend retreat or more than 1 day, you have at your disposal our rooms, also there is availability if you want to try something different like camp in the mountain. Our instalations are services are at your disposal to create the most memorable nature retreat for your company.